The Prusa i3 is a 3D printer that uses Fused Deposition Modelling (FDM) and can print small items rapidly and affordably while maintaining a high level of resolution. This printer works best for quickly prototyping items or printing pieces that won't be subjected to a lot of stress or heat. It can be worthwhile to consider other options if you're searching for a machine that can print in stronger materials.
PLA, PETG, and ABS can all be printed on the Prusa i3. However, since it does not come with an enclosure, it can be a bit tricky to use.
Keep reading below to understand how you can use your Prusa i3 to print ABS.
What is ABS?
Acrylonitrile Butadiene Styrene, or ABS, is essentially ASA's precursor. Typically, ABS is utilized to create affordable, reliable mechanical parts (LEGO bricks, car parts, cellphone parts, etc.). The filament is tough and heat resistant, which qualifies it for use in mechanical parts and other applications.
The UV resistance is marginally weaker than ASA, and there is more noticeable warping and odor when printing. Keep in mind that over time, ABS outdoor parts become increasingly brittle and discolored.
Because of its high tenacity and temperature resistance, ABS is a technical material ideal for printing mechanically stressed objects. Acetone can be used to level down its surface. The primary drawbacks are considerable warping and hazardous gases.
Related: How to Get Started in 3D Printing
ABS is a difficult material for a novice to print with. The majority of individuals who successfully print in ABS have their printer enclosed since it is particularly sensitive to the temperature and ventilation in the space that the printer is in.
The recommended nozzle temperature when printing with ABS is 255°C. Whereas the recommended bed temperature is 100 °C, you can set the bed temperature between 80 to 110 °C based on how large the object is. Generally, if the object is larger, then the temperature should be higher.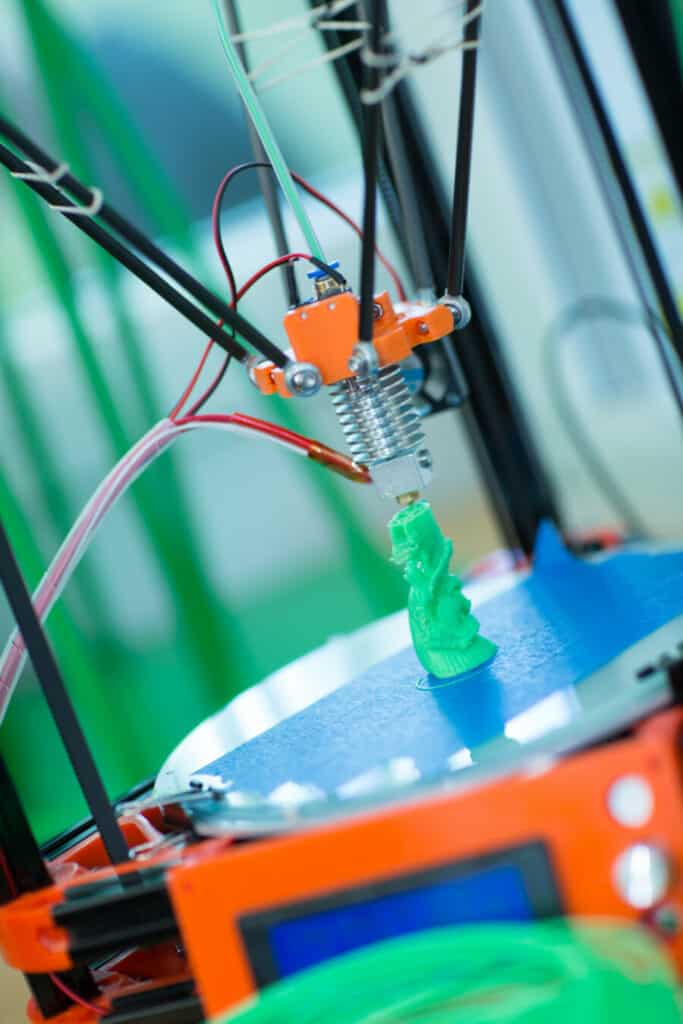 Can Prusa i3 Print ABS?
Yes, Prusa i3 can print with PLA, PETG, and ABS. Here are a few things that might help you.
Tips to Print with ABS
If you're a beginner, you'll likely have a difficult time printing with ABS. But once you're familiar, ABS is all you'll print with. Acetone stands well in heated situations, such as a car, and it makes it simple to attach pieces together.
There are several things to keep in mind when printing with ABS.
The bottom layer is crucial. If you get that correctly, everything else will probably follow. Wait until the 9-point calibration is almost complete before preparing to perform the live-Z in order to tune it accurately each time. Set the live-Z as the printer is laying down the perimeter. Simply stop printing and try over if you were too slow or didn't get it perfect and the print came out incorrectly. You can always add more perimeters to your print to give yourself more time.
Related: Prusa i3 Belt Tension Guide
Surface preparation is crucial. Every five ABS prints or so, cleaning is advised. Shortly after using acetone, prepare the surface with IPA. If you only use acetone, you might find it difficult to remove residue.
You can create a tiny circle that is attached to each print. The circle should have a diameter of about 15 mm. When you adjust the settings in the slicer, set the thickness to 0.2 mm, and be sure to turn the circle to the front of the printer.
If the print is big enough, a circle can also be placed on both sides. It is advised to plunge in with a cheap scraper that has a sharp edge after printing. Keep it level; otherwise, the PEI will be replaced. Removing the prints while the bed is still warm (up to 100°C or 212°F) is OK (and might even be preferable). You can reheat the bed for 20 minutes if it has cooled before removing the print.
Using an enclosure is important for ABS. Because the Prusa i3 does not come with an enclosure, it's recommended that you buy one as an add-on.
Because printing with ABS may result in toxic fumes, it's recommended that you print in an area with good ventilation. Think of an open garage, maybe.
Related: Prusa i3 MK3 Stops Mid Print? Here's How to Fix
Frequently Asked Questions
Is ABS a Common Filament?
The use of ABS in 3D printing is not new. It was one of the earliest plastics to be utilized with commercial 3D printers. Thanks to its inexpensive cost and strong mechanical qualities, ABS is still a highly well-liked material today, many years after its invention.
Can I Print ABS with a Cooling Fan On?
To increase layer adhesion when printing ABS, users typically turn off the component cooling fan. If you have control over the cooling fan's power, adjusting the speed between 10% and 20% will help to enhance the quality of overhangs and lessen sagging.
Does ABS Create a Foul Odor?
When ABS is printed, a pungent odor known as "burnt plastic" is released. In addition to making it very unpleasant to be in the same room as the printer while it is operating, testing has shown that the fumes are harmful.
Does Abs Need to Be Cooled Down?
Since cooling can cause the plastic to harden too rapidly and prevent the layers from bonding, resulting in the issue known as layer separation or delamination, ABS is typically a form of filament that requires no cooling or very little cooling.
Conclusion
So, here you are. To conclude, even though it is difficult to get used to printing with ABS, once you get the hang of it, you're all set. And although it is recommended to use an enclosure when printing with ABS, there is no need to worry because there are many add-on enclosures you can purchase for your Prusa i3.